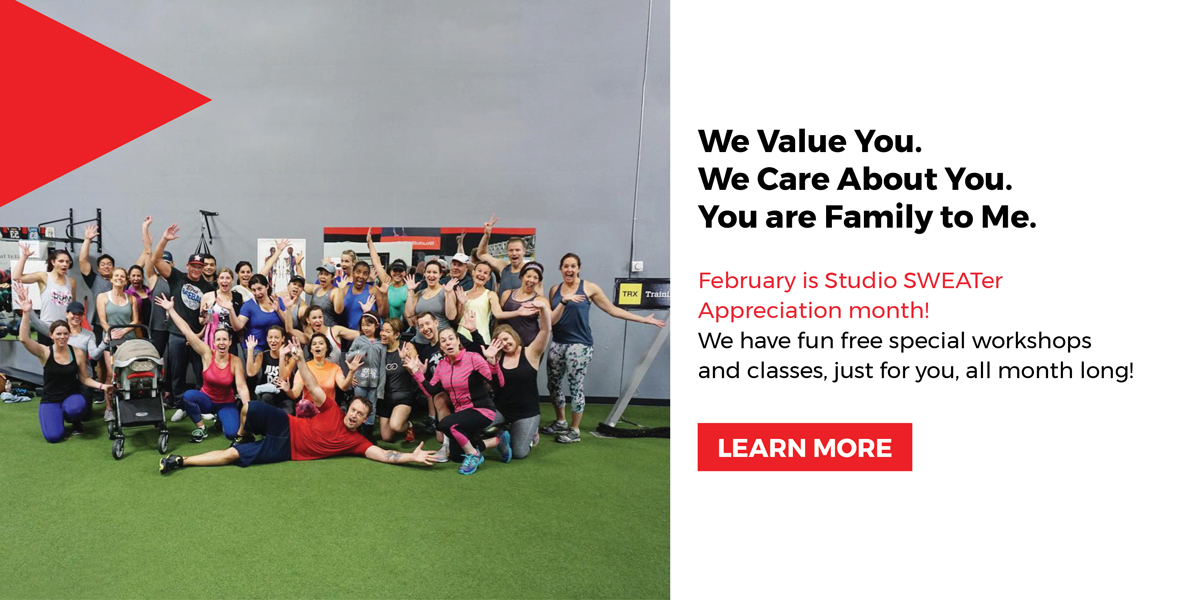 Hey SWEATers!
We value you and we want to show you with our 2019 SWEATer Appreciation Month. All of these events are FREE for you. Those with an * mean you need to sign up to attend. Sign up by emailing reservations@studiosweat.com and letting us know what class or workshop you would like to attend. Spots will fill up, so ya better sign-up now!
2/4 10:30AM TRX Workshop with Cat *
2/9  Complete Nutrition at The Studio with Samples
2/11 10:30AM Yoga & Deep Stretch with Jeanette *
2/12  6:30PM Self Care & Recovery Workshop with AJ *
2/23  10:30AM Nutrition 202: Intuitive Eating Workshop with Miriam *
2/25  10:30AM Tips for a Pain Free & Active Lifestyle with Dr. Ben Deluca and Dr. Donald Mull
Every Mon & Wed throughout February Bring Your Teen for Free Nights! Bring your 12-17 year old to either Monday's 5:35PM or Wednesday's 5:45PM class. Normal reservation policies apply, so sign them up like you sign yourself up, then we'll take care of comping their class!
---
*Sign-up for the events or workshop(s) of your choice now by emailing reservations@studiosweat.com with which ones you'd like to attend or if it's within 5 days of the workshop you can use the button below to sign-up online!