Update:  June 23, 2021
WELCOME BACK!
We're so excited to celebrate life with you. And if you're feeling nervous to come back because you've been out of the game a while, remember that first and foremost… you're not alone. A lot of people just like you have recently taken their first steps back up those beautiful new Studio SWEAT stairs. Do they regret it? Not a bit. They're remembering now more than ever why they come to Studio SWEAT.
Secondly, we're here with wide-open arms to give you your "Welcome Back" air hug. We're not here to judge you, we're here to help you.
Lastly, if you're concerned about feeling safe. I get it. Just know that your health and wellness are our number one priority. You can see more on the measures we continue to take below.
What's New Highlights
We Are Open for All Classes Indoors – With well over 5000sf (which means a "normal" capacity of over 100+), 28 doors directly to fresh air, and many industrial fans our smaller classes (max 18) and big space are perfect for a safe, fun, and effective experience.
More Spin and Spin Fusion Classes – Yassssssssss! We did add more Spin and Spin Fusion classes, and the plan is to start adding even more and more as the current classes start to fill back up.
Wednesday Weights Only with AJ – A new class I've been dying to add but needed to wait until we could go back inside.
Bootcamps – We're still keeping several on the schedule. They're going well and I know you like them. So, there ya have it.
Safety Measures – We'll do everything we did to help keep you safe when re-opened for training before and we ask that you do the same. See more below.
Masks Required? Not for those vaccinated. Non-vaccinated are still encouraged to mask up when not actively exercising.
HOW DO I SIGN UP?  The same way as pre-Covid.  We'll take roll at the end of each class to see who wants to pre-book their same class next week or:
Book Your Classes Online or in-App Book Online Here or by download our app in the App & Google Play Stores!
Online sign-ups are allowed 5 days before each class, but you can email reservations@studiosweat.com if you want to be signed up for classes further out than that. Also, note that if you have not been in in a while you should see this waiver pop-up when you try to reserve your first class (or first class back).
CHILDCARE:   Friday mornings for the 9:15AM workout – reservations required. Email reservations@studiosweat.com if you need help. The kiddos do need entered into our system to register them for childcare. You cannot sign them up under your name, unfortunately.
Learn More & Reserve Your Child Care Spot Here
New Program & Pricing Options
We're so excited to bring you some new options, including the Weekly Warrior Plan, perfect for those that come 2 to 3 times per week.
The late cancellation and no-show fee for Monthly Maniac Plans is now $7.50
Seeing is Believing
Lobby/Personal Training Zone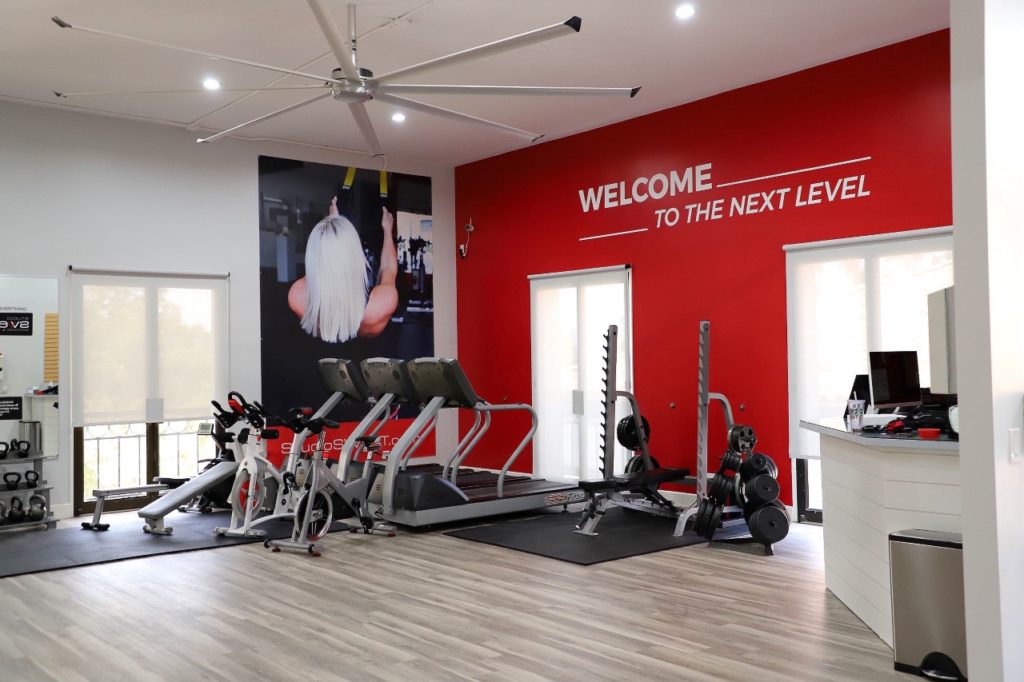 Cycling Room (The bikes are all 6 to 8 feet apart.)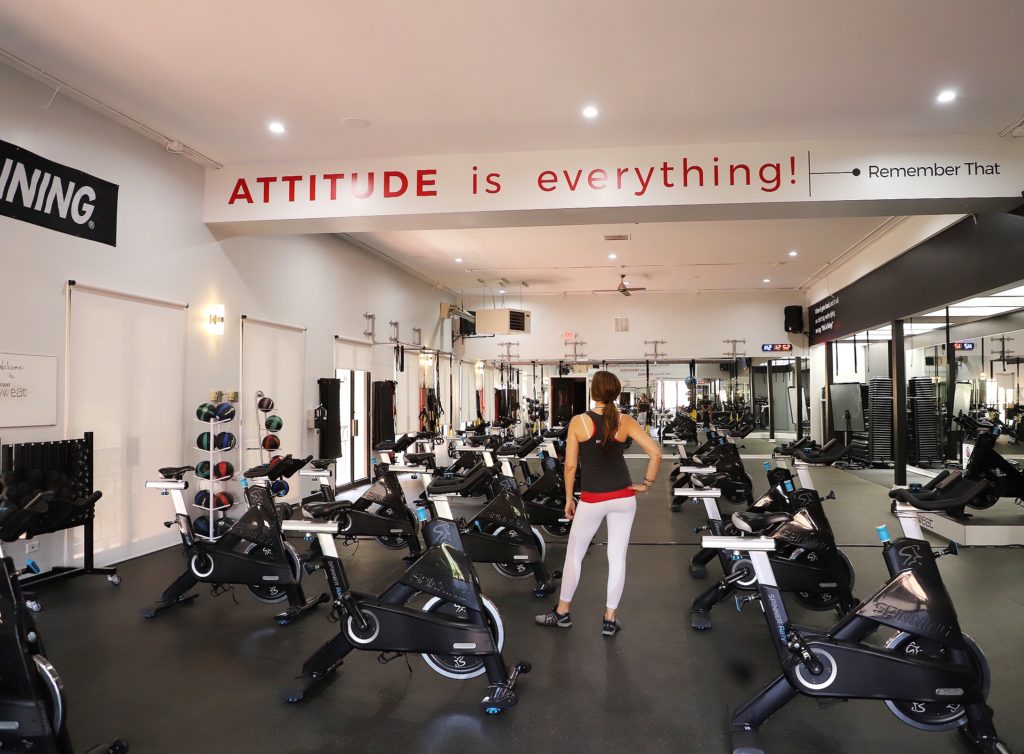 Other FAQs
S.D. = Social Distancing.
What's the new address and how do I enter?  We are now at 16473 Bernardo Center Dr, San Diego, CA 92128.  Our main entrance is on the left side of the building. Look for the Studio SWEAT arrow!
Can I drop into a class?  Yes, you can, but we strongly suggest you reserve your spot ahead of time to guarantee you get in the class.
Is capacity limited?  Even with full classes we are still well under set capacity limitations because we keep our class sizes small so we can serve you best!
How do the "class workstations" work? We now have 3 rows of bikes. When facing the instructor, if you are to their right, please step off the right side of your bike. If you are on the left, please step off to the left.
Front Row Workstations – From your pedals forward and in front of your bike.
Middle Row Workstations – You get the entire length of your bike, plus as far forward as the pedals on the bike in front of you, and as far back as the back row bikes pedals.
Back Row – From your pedals back and behind your bike.
Visual Example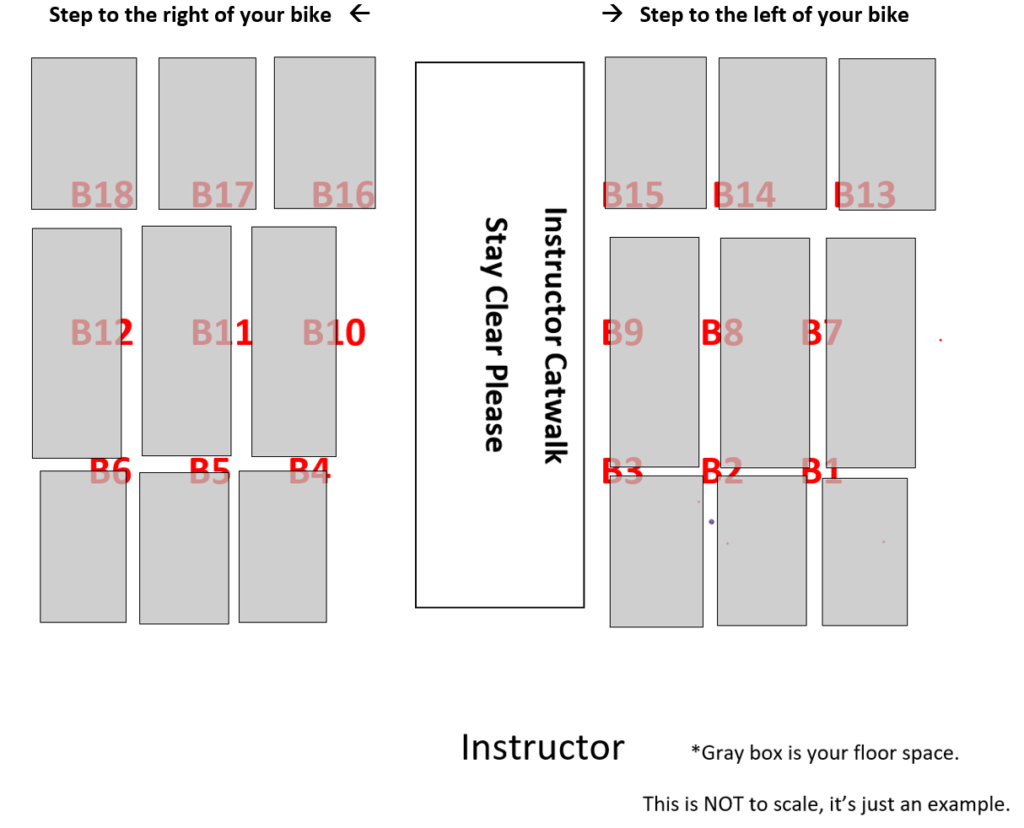 Will credits I had before the big move and pandemic work? Yep, they sure will, but if you were on an unlimited plan you will need to pick up a new plan. Your existing plan will be good through whatever date you last paid through though. For example, if your unlimited plan renewed on June 4, on July 5th you will need to pick one of the new programs as your "old" plan will be have been canceled.
Will the locker rooms be open for showers? Yes, but we ask that no more than 4 people be in the locker rooms at a time (don't worry they're huge) and that you do your best to give people their S.D. space.
What is the cancellation policy? 24 hours in advance, just like before. See here for more info on that.
What are some of the things Studio SWEAT is doing to keep a healthy safe S.D. friendly environment during this phase of re-opening?
Disinfecting high touch surfaces before and after every class
Spacing classes out times so once class can clear out before the next comes in
Increasing janitorial and cleaning protocols
Performing required staff training on Safety Protocols
Created Personal Workout Stations to allow for 6 feet social distancing
Requiring all clients to sign special agreements to help keep the environment safe and their peers comfortable
Providing cleaning wipes and disinfectant spray for clients to use on equipment before and after use.
Providing hand sanitizer in many places
Random (you never know if it'll be you) temperature checks
Opening up our many many doors to provide lots of fresh air
And more!
What are you, as a customer coming in, expected to do while we are in this phase of re-opening? If you don't comply, not only are you putting yourself and others at risk, but you're also putting us at risk of getting shut down. We do have some high-risk clients that we REALLY want to keep healthy, so please do your part. Here's what we need you to agree to.
Required Pre-Cautionary Policies to Enter Studio SWEAT Until Further Notice To Prevent the Spread of Viruses Like CoVid19
Use hand sanitizer provided when entering and exiting the studio
Avoid physical contact with other members
Arrive 10-15 minutes (not more) before your class start time in order to wipe down the equipment you will use for your workout
Immediately upon arriving wipe any equipment you will use for your workout with the disinfectant we provide
Leave within 15 minutes of your class end time
Post-workout immediately disinfect any equipment that you used with the disinfectant we provide
Sign-up for classes 30 or more minutes before class start times when you can
Not come in if you or anyone in your household has or has recently shown any cold or flu-like symptoms, including but not limited to a fever
If you bring in your own equipment you must disinfect it with tools we provide upon arrival
Unvaccinated clients are encouraged to wear facial masks over their mouths and noses when not working out
It is still BYOHT (bring your own hand towel), but do not bring in pre-used towels. Fresh clean, un-unused towels only, please.