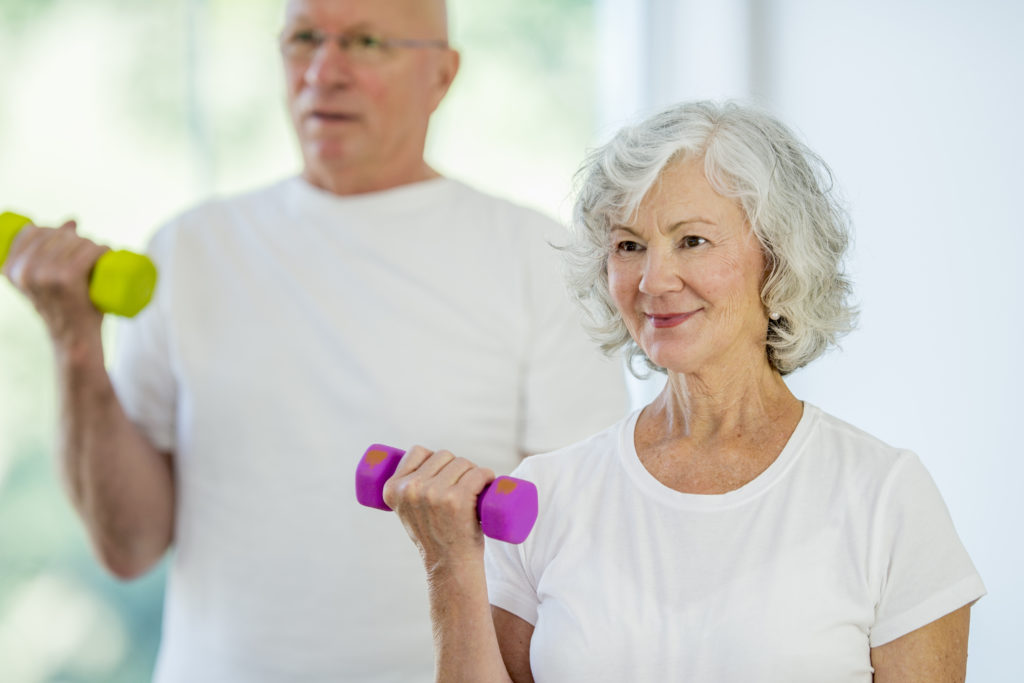 When is the new Low Intensity Bootcamp Hour at Studio SWEAT?
Mondays at 10:30AM
Calling all active older adults, have we got the fitness class for you, it's our Low Intensity Bootcamp hour at Studio SWEAT! Come in and enjoy time with your fitness friends, where you can each enjoy your own personal workout stations to improve and maintain your cardio, strength, balance, and flexibility.
We're so happy to start this new offering just for our Baby Boomers!
Who leads the class?
Jess N – Experienced. Amazing. Focused Lady.
Jess grew up in beautiful Oregon, and has always been involved in sports and fitness; from yoga to CrossFit, to playing soccer on scholarship at University of Oregon.
As an NASM-certified personal trainer, Jess is a great fit to help you achieve your goals and guide you through group fitness classes.
What Makes Jess a Good Fit for This Class
Jess has such strong experience working with active older adults, in the clinical setting. She's worked with our more seasoned clients one-on-one and in groups for years, helping them get stronger, fitter, and more confident! Over years of training, she's realized that it's never about the quantity of exercises done, but rather the quality. Yes, form is key to safety and success. Because of that, she loves to focus on occupational movement to help her clients feel strong in their daily activities, such as bringing in the groceries, lifting grandchildren out of car seats, and keeping up on that yard work.  Jess's ultimate goal is to make people feel better, live longer, and just, well… be well!
Her Training Philosophy
Control is the name of the game. Jess is able to slow down her "go-getter" attitude to control the pace and tempo to keep a positive beneficial flow throughout class. "I want them to feel good and strong and confident, all while working on stability and imbalances. Not like they're not getting run through a gauntlet."
How Would You Describe the Class and Atmosphere of a Typical Class
"I would say it is fun, very self paced, gently guided on weight selection, not a lot of pressure to get the reps in, it's a slower-paced class. Working on functional moves, this is what we are here to do but take it at your comfort and physical ability level. With a little classic rock thrown in for good measure, to get you feeling good while working hard.
Where are you located?
We're conveniently located in Rancho Bernardo at
16473 Bernardo Center Drive
San Diego, CA 92128
How much do the classes cost?
Your first class is FREE!
After that, it is 1 class credit per class. Class credit packs or single classes can be seen and
purchased here
.
For example, a 10 class pack of credits is $149. A single class is $22.
Class credits purchased never expire!
How can we sign up for a Low Intensity Bootcamp Class?
After you do that you can pick any of these ways to reserve your spot in any Low Intensity Bootcamp Hour.
You can email reservations@studiosweat.com
You can call 858-485-0234
If it is within 5 days of a class beginning you can reserve online here.
What to bring
Water
Towel to lay over your mat
Hand towel
Mat (optional, we have some you can use if you prefer)