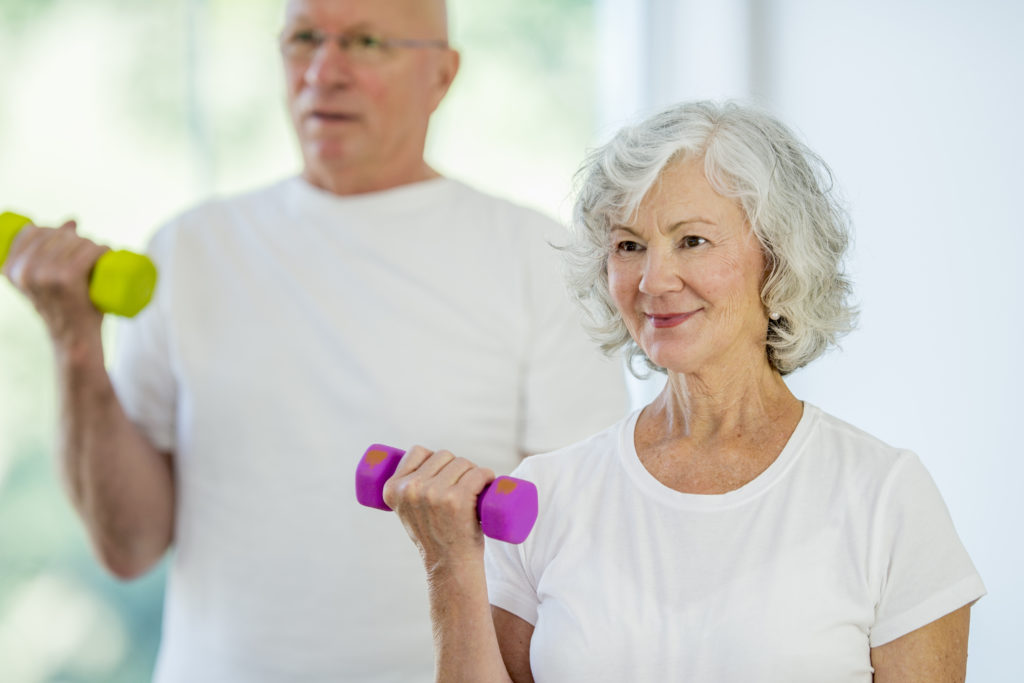 When is the new Senior SWEAT Hour at Studio SWEAT?
Mondays at 10:30AM
Calling all active older adults, have we got the fitness class for you, it's our Senior SWEAT hour at Studio SWEAT! Come in and enjoy time with your fitness friends, where you can each enjoy your own personal workout stations to improve and maintain your cardio, strength, balance, and flexibility.
We're so happy to start this new offering just for our Senior SWEATers!
Who leads the class?
Carolyn Erickson – Accomplished. Amazing. Bad Mama Jama.
If experience is the best teacher, then Carolyn is probably one of the most educated fitness professionals in the world! I swear the woman has not only seen it all, she's lived it all. She brings a lot of diversity to our Studio SWEAT team, holding certifications in TRX®, Spinning®, Krank Cycle, ACE, NESTA, Mat Pilates, EFI Gravity, Hydrorider, Kinesis, Jillian Michael's BODYSHREDTM, and more.
Speaking of Jillian Michaels, Carolyn is currently is the Director of Sales and Business Development for Jillian Michael's BODYSHREDTM program, and can be seen on the new BODYSHREDTM DVD series coming out in the fall of 2014.
As far as why she fits in so well at Studio SWEAT, well Carolyn has never stopped enjoying what she does. Her classes are fun, dynamic, and downright tough. She knows how to push trainees beyond what they think you can do, and she loves helping people achieve results. She also sets an extreme fitness goal once per year so she can hold herself to the same standards that she holds her trainees to. 2014 she won the West Coast Classic Figure Competition in LA. Expect her Motivation, and Inspiration to translate into your Perspiration.
Her Training Philosophy
She is dedicated to helping clubs/gyms member experience by launching successful programming and exciting classes.
Her Training Style
Experienced, energetic, and fun!
Where are you located?
We're conveniently located in Rancho Bernardo at
16473 Bernardo Center Dr
San Diego, CA 92128
How much do the classes cost?
Your first class is FREE!
After that, it is 1 class credit per class. Class credit packs or single classes can be seen and
purchased here
.
For example, a 10 class pack of credits is $149. A single class is $22.
Class credits purchased never expire!
How can we sign up for a Senior SWEAT Class?
After you do that you can pick any of these ways to reserve your spot in any Senior SWEAT Hour.
You can email reservations@studiosweat.com
You can call 858-485-0234
If it is within 5 days of a class beginning you can reserve online here.
What to bring
Water
Towel to lay over your mat
Hand towel
Mat (optional, we have some you can use if you prefer)