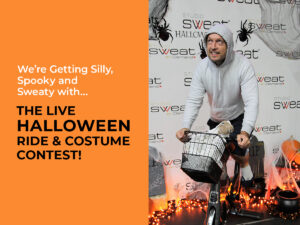 Halloween Rides & Costume Contest
Saturday, October 30th!
Our annual Halloween Costume Contest is this weekend, and you're INVITED! So, get dressed up, hop on your bike, and sweat through the spookiest and silliest Spin classes ever!🧛‍♂️👻🎃
---
SATURDAY OCT 30 RIDES
8:00 AM Spin Sculpt Fusion | Cat Kom
9:15 AM Spin Core (Rocky Horror Theme) | AJ
---
HOW TO JOIN IN ON THE FUN
1. Sign Up using the link above, or email reservations@studiosweat.com and save your spot!
2. Plan Your Costume! Though it is NOT required to attend any of the Halloween classes, costumes are encouraged!
3. Show Up and Say Cheese!  Show up for your class, take a walk to our Spooktacular Photo booth backdrop, and say cheese!
4. Vote!  You and your SWEATY friends can cast your vote by dropping your pick for "Best Costume" in the pumpkin!
5. Win! Prizes will be amazing people! 
* One-on-one Trainer Session with AJ!
* SWEAT Apparel
* Other SWEAT Swag!
SWEAT ya Soon!