PRIVATE GROUP CLASSES
available now!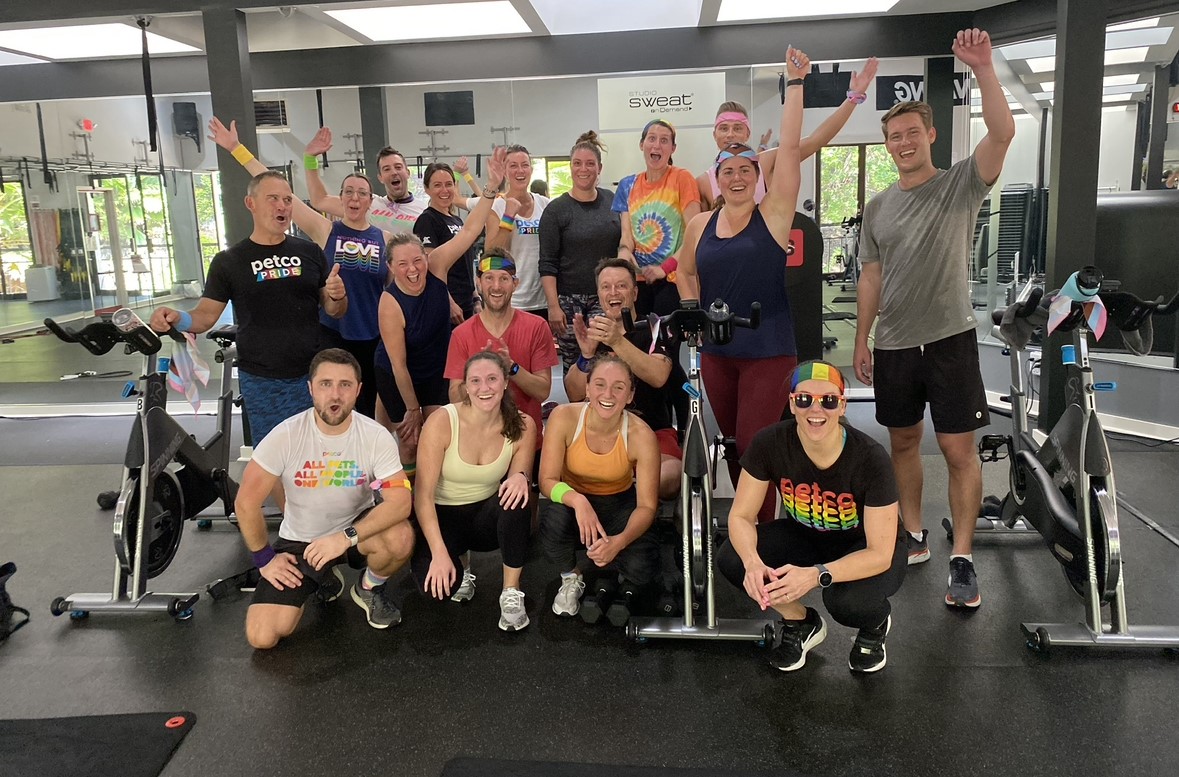 We're so excited to announce a new offering at Studio SWEAT – private classes! That means you can host your own private sweat sessions!
These are perfect for:
Corporate Team Building

Girl's (or Guy's) Night Out

Birthdays

Monthly or Weekly Work Team Workouts

Sports Team Trainings & More!
How do I schedule my private group class:
You can skip ahead and CLICK HERE to pay for your private session if you'd like. When we receive payment a Studio SWEAT staff member will reach out to you to book your private event(s). Or you can first email reservations@studiosweat.com to make sure we can accommodate your group
What will my private class include:
Exclusive use of the studio's main fitness room for a 60-minute class with a certified, motivating fitness training professional
Up to 18 participants per class
You pick either a 45 or 60 min workout, as well as the type of workout you'd like. Options are below and all include a cool-down stretch at the end

Straight-Up Spin (all Spinning)
Spin Core (Spinning + Core Exercises on the Floor)
Spin Sculpt (This is our most popular and combines indoor cycling with full-body resistance training exercises on the floor)
TRX Sculpt (TRX training exercises, along with other total-body strength exercises using dumbbells, med balls, etc)
Bootcamp (needs no description 🙂)

Plus, use of the room for 20 minutes before and after the class
Attendees are also welcome to use our amenities after class, including the locker rooms with showers, hair dryers, and other toiletries so they can walk out feeling fresh and clean!
What's the cost:
Most private classes are a flat-rate of $295, but it can vary depending on your needs. We do require that all private group sessions are paid in advance to hold your spot.
Full refunds are available if you cancel 14 or more days before your event or 50% if you cancel 7 to 13 days before your event. No refunds are offered if you cancel 6 or fewer days before your event.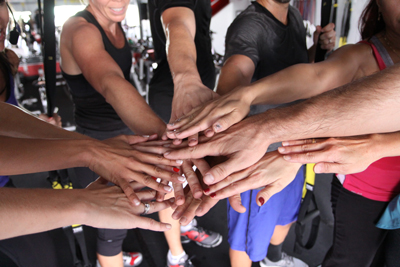 Other Common Questions:
Do the private classes come with shoes or do you rent shoes out to participants: No, we don't offer shoes or shoe rentals, but our bikes all have dual-sided pedals where one side is a toe cage and the other an SPD cleat so SPIN SHOES ARE NOT REQUIRED – regular athletic shoes are fine
What do participants need to bring: Just water and a hand towel!
Do you offer child care for private classes? This is an optional add-on and is based on staff availability.
What's the best way to contact you with more questions? Email reservations@studiosweat.com