Testimonials by Josh & Satoka
Our journey to getting fit and getting healthy started when we went to the doctor to get our annual physical exam in 2013. The doctor told both us and that we were overweight and that we needed to lose at least 15-20 lbs or we would have to take medication for the rest of our… Read more »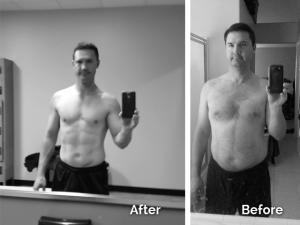 Testimonials by Alex H.
1 year of these great trainers encouraging me to be my best. 1 year of hours of cardio and strength training at the limit. 1 year of tremendous results. I love you guys.
Success Story by Joy S.
Dear Cat: Ever since Fit Camp ended, I have been thinking about how much I want to thank you and Mere for being outstanding leaders for the Camp.  I have never had so much fun working out with a group of people. Everyone, including me, has a weekly schedule that is chock full of obligations, but every week… Read more »
Success Story by Rebecca Cole
After two fit camps, my goals have been exceeded! You are the best, Cat! With your incredible knowledge and warm encouragement, I am stronger, have more energy and stamina, and my body is changing for the better! You've even won over my skeptical husband! I'm now enjoying spinning and continuing my quest for a healthy… Read more »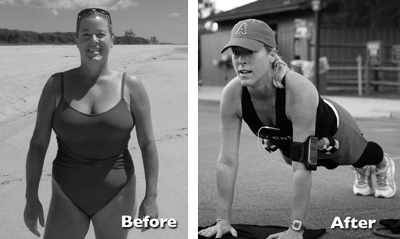 Success Story by Lauri T.
Okay, so here is a very telling 'Before and After' photo sequence. This is sooooo embarrassing!!! The picture on the beach was taken in Kaui in May 2010 to celebrate my 20th Wedding Anniversary. When I got home and looked at the photo's, all I could think was that I looked like a beached Whale!!!… Read more »
Success Story by Kate Nazif
I found Studio SWEAT by accident, or as I like to describe it, by divine intervention. It seems only fair to give divine credit to such a life changing event. I am the mother of three young children, and I had spent years without any real exercise program. If I'm being honest, it has been… Read more »
Success Story by Meredith Gant
I'm not one for gushing praises and I've never written a review before. But given the fact that Studio Sweat has totally changed my life, I wanted to share my story. I'm a mom. A stay at home mom with three young children. To say that my life is crazy is an understatement. And my… Read more »
Success Story by Megan Morris
Studio Sweat is the whole package! Where else are you on a first-name basis with the owner who really cares about YOU not just a membership for someone who doesn't ever return! The "punch card" system is awesome and I can work in the work outs into my hectic schedule working full-time AND having three… Read more »
Success Story by Studio SWEAT's very own Michael Lewis
As drivers we all overstep the line once in awhile on the race track and usually this is signaled by a spinning race car. It's part of what we do as drivers, always testing the limit and our only hope is that there are no sudden stops or walls involved. Although it's a necessary evil… Read more »
Success Story by Hollan Mcbride
When I moved from UTC to Rancho Bernardo and had to leave the Sporting Club behind, I was sad! I loved that club — especially relaxation near the pool, cabanas, access to the massage and facials. It always felt like I was working out then going on vacation. Enough of what I miss, now that… Read more »
Success Story by Marissa Lee
I wanted to share with you my personal story. My picture is showing three images of the change in my body over the last 7 years: 1) I'm 30 2) I'm 36, just returning to work after having my second daughter and only  a few months away from my first Studio Sweat class 3) I… Read more »