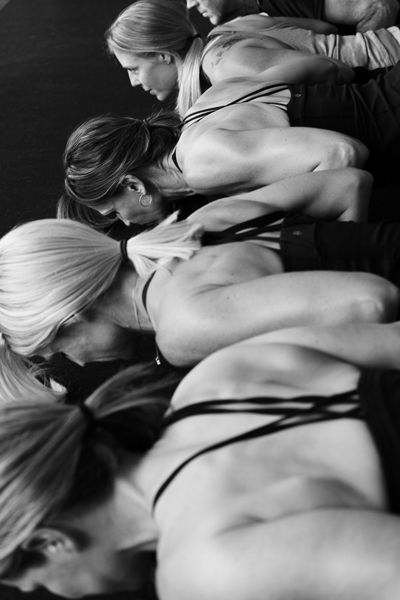 Do you offer an Intro Deal for New Customers?
For locals interested into becoming regulars at Studio SWEAT we offer your first class free AND a full month of unlimited classes for only $79!  This intro month must be purchased within 7 days of your first visit to Studio SWEAT.
What is your Refund/Transfer Policy?
At Studio SWEAT we value your business and your commitment. We equally value the commitment of our trainers and instructors. Therefore, we have a simple NO REFUND policy. When you make a commitment, we make a commitment. And we want you to follow through! While we will not provide refunds or allow transfer of purchases to other parties, if you change your mind on a particular type of training or class, please ask our staff for potential exchanges for other class or training options.
Can class packs be shared?
Class packs can only be shared with those living in the same household.  For example, mother and daughter or husband and wife.
Are reservations required and how do I sign up for a class?
No reservation is required, but with limited space, reserving your spot in a class is highly recommended. Reservations can be made by using our Online Reservations System
How far in advance can I make a reservation?
5 days in advance. The people in a class will have the first chance to reserve their spot for the following week's class, then that class will be open to any others on a first come, first serve basis.
Do you have Spin® only classes?
Our SpinCore classes are really just a fat-torching pure Spin class with a few minutes of Abs peppered in, most often at the end of the hour. We have not found a person yet that doesn't want this, so for you hard core "I just want to Spin!"ners, SpinCore is the right class for you. We tried doing just Spin, but EVERYONE pushed back and said, "Really! No Core?  C'mon!". Therefore we give you what you want.
Do I have to have special shoes for Spin® classes, and if I have biking shoes will they work in your pedals?
No special shoes are required, but all our bikes do support the *SPD Clip/Cleat Pedal system. One side of the pedal is just a toe cage for regular shoes and the other side has the SPD Clip.  And now we have several bikes with "Look" clips available as well!
Cancellation Policy
Because our classes often have wait lists you must cancel class reservations & trainings 24 hours or more in advance of the class/training START TIME. If you do not cancel within 24 hours, it is considered a "late cancel". If you late cancel or do not show up for class (a "no show"), a class credit is systematically taken. If you are a late cancel and there is a wait list AND we were able to fill your spot, a credit will not be taken. For those on the Unlimited Plans late cancellations are subject to the current cancellation fee.  If you want or need to cancel within the 24 hour window you can still try to see if it's possible by emailing reservations@studiosweat.com or calling us at (858) 485-0234, but no guarantees you won't be charged for the late cancel. Sorry Charlie. ☹
Do you have showers and/or areas to change?
We do have beautiful new locker rooms with showers and lockers!
Do you have child care available?
We have an amazing sitter available for the classes/trainings most classes and training between 8AM and 11:30AM every weekday morning, as well as Tuesday for classes beginning after 5PM.  This is free for Premium Program customers, $20/month for Standard Unlimited Program Customer or $25 for a 10 visit pass (per child) or $5 drop in. We also have areas where parents bring their children and let them watch movies, play Wii or do homework literally anytime, but they are responsible for keeping an eye on their own children in these cases.
Do you have student, senior or active military discounts?
For active military members, senior citizens 65 & older, and students 22 & under we do offer a 10% discount on several service options, like an unlimited month of classes or a 10 class pack.  It is not good for any retail products, and is not available for all service offerings though so email us at reservations@studiosweat.com if you have specific question or would like to request this discount and we will let you know!
Spinning© Computer Specific FAQs
Which heart rate straps work with our new Spinning® Computers?
Users must wear either a Coded Transmitter (such as Polar© T61, Polar© T31C or Polar© WearLink®)
or an Ant+ compatible transmitter when operating the Spinner® bike with the Spinning® Computer. Only
the listed transmitters allow a "one to one" relationship with the Spinning® Computer and will minimize
potential "crosstalk" interference. If users wear non-coded straps, there is significantly increased potential for
"crosstalk" which will cause erratic heart rate display, loss of heart rate display and significantly reduce the
consistency of accurate heart rate reporting.
On Screen Features:
 Cadence RPM; Current & session average
 Heart rate; Current, session Average and % of Maximum heart rate
 Training data; Exercise session time and equivalent distance travelled
 Personalized session KCALS (Calories)
 Low Battery Indicator
How do I use my heart rate strap with the computer?
    Think of the * symbol as your "enter" key. 
1) Turn the computer on by tapping *
2) Hold down the * until the heart symbol with a 0 appears mid screen
3) Make sure you're heart rate strap is near (within 12 inches) the computer. Tap the bottom left button that looks like waves (syncing). The computer will then begin to look for your coded strap. When it finds it it will show you your heart rate straps code.  Take note of it because it will be the same unique number every time.  
4) Tap the *.  You will be prompted to enter your age.  
5) Use the arrows to enter your age (it defaults to 30).
6) Tap the *. You will then be asked to enter your Ambient Heart Rate (see the section below on how to figure out your AHR) 
7) Tap the * again. You will asked to enter your weight using the up and down arrows.
9) Begin your ride by clicking the bottom right button to start the timer!  
10) When your ride is over you can check out how you did.
What are the Group Cycle Computers Default Settings? 
When the rider does not enter their own personal data for calculation of caloric
expenditure, the computer will use its pre-programmed Default settings.
The three Default setting are: Age (AGE): 30, Ambient Heart Rate (AHR): 70
bpm, Weight (WT) Kg/lb): 70 kg (154 lbs).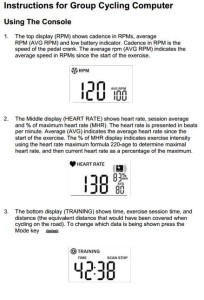 What is Ambient Heart Rate (AHR)? 
Ambient Heart Rate (AHR) is your normal heart rate during the day when you
are going about your day-to-day activities, but not exercising. You can calculate
your AHR while you are sitting and reading a book, watching TV, working on the
computer, etc. Take your Ambient Heart Rate for 3 days to determine your
average AHR.  
How does Ambient Heart Rate (AHR) differ from Resting Heart Rate (RHR)? 
Resting heart rate (RHR) is your heart rate when you're in a complete state of rest. It is usually taken in the morning after waking up and before arising from bed. Whereas Ambient Heart Rate is your normal heart rate during the day as you are going about your normal day to day activities.  AHR for the general population is generally in the 70s.  World class athletes AHRs are in the 40s and 50s.  My suggestion is that you take it while in a few states, seated at your desk, walking on a flat surface, etc.  Take it for a full 60 seconds and begin your count with 0, not    
In the Heart Rate display, what does the %MHR mean and what is that
number?  
The Group Cycle Computer will automatically determine your predicted Maximal Heart Rate (MHR) when you input your personal data during the setup. The % of MHR display indicates exercise intensity using the formula 220-age to represent 100%, and then current heart rate as a percentage of the maximum.