An effective personal trainer can guide you, motivate you and educate you. Studies show that people looking to improve their fitness and improve their health achieve significantly greater results when using a trainer. Trainers provide accountability and discipline. A good trainer will also make sure that you don't damage your body when exercising. It is important to note that there is a right way and a wrong way to exercise. The SWEAT program will increase the benefits of exercise through a multi-disciplinary approach.
Take your Pick!
We offer 3 Personal Training Options (all sessions are ~ 50 to 60 minutes long)
One on One Private Training.
The focus is all on you so you'll get exactly what you want and need.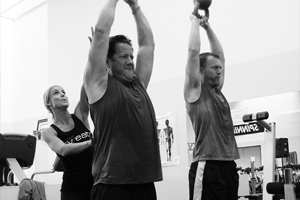 Partner Training.
Grab a partner or ask us to pair you up with a training partner, and enjoy comradery, accountability & a better rate! Woot Woot!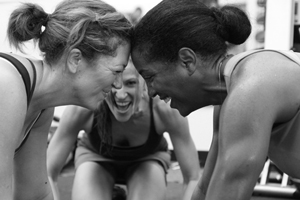 Make it a Party Training (3 people).
Grab  a couple friends to work with one of our amazing trainers and have a blast with your hand selected training partners!
How To Get Started:
All you have to do is review the information on this page then email reservations@studiosweat.com and we will set you up with the perfect trainer to help you reach your fitness goals!  So take that step towards results now!
The Personal Training "SWEAT Program" offers the following:
Fitness Assessment
A fitness assessment objectively measures your current level of physical fitness, and is an important part of any responsible training program. Without an effective fitness assessment, growth cannot be accurately measured. Our fitness assessment incorporates many different methods to achieve accurate results. The Fitness Assessment measures: body fat, BMI (Body Mass Index), physical endurance, muscle strength, and blood pressure.
Strength Training
We will guide you through a program that will develop strength and increase endurance. We ensure that workouts don't get repetitive or boring. We will work with you to achieve maximum results. We will combine weights, cardio and nutrition to give you optimum results.
Tracking Results
An important part of the process is tracking results. To maximize your progress, we need to continually monitor and adjust your program. This cannot be done effectively without proper monitoring and ongoing assessments. We can continually tailor your program so that you are getting what you need to achieve your goals.
Nutritional Counseling
Together we will develop a plan for healthy eating. We will determine the vitamins and minerals that are required for your optimum health. We will guide you through the process and help you get through hurdles along the way.
Ongoing Training and Support
We will show you techniques to improve strength and endurance for a lifetime. You will learn valuable techniques that can be incorporated into your lifestyle for years to come.
Rates & Schedules:
Rates
Think about the money you spend eating out or on material things.  It adds up huh.  How about now you decide to invest in you because nothing tastes or feels as good as being fit.  I promise you that.
We want to make this as affordable for trainees as possible, as well as keep within the market standards for private coaching in the San Diego area.  Rates can range from $48/session to $150/session.  It just depends on if you are doing one on one, partner or small group training, as well as how many sessions you purchase.  To give you an idea what you're looking at it you would invest $75/session if you pre-paid for 10 one on one coached sessions.   To get the rate for the option you choose just email reservations@studiosweat.com and we'll let you know!
Trainer Schedules
We do our best to find you the best trainer for you based on your goals and at times that work for you.  To learn more about which trainers are available when just email reservations@studiosweat.com to get going now.  No more waiting until tomorrow.  It IS tomorrow!