About Ang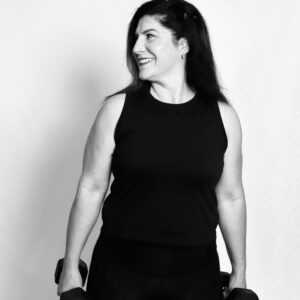 Ang (if you call her Angela she'll think she's in trouble) is literally beauty and the beast. 
Born and raised in San Diego, she's been an athlete/coach her entire life: Tae Kwon Do, swimming, soccer, cross country/track, fitness coaching, and more if you can believe it! 
Ang is always down for challenge events, from a hard-core MCRD Boot Camp Challenge to fun runs with bubbles and silly costumes. And…she loves mixing it up with boxing, pilates, running, soccer, Spinning, strength training (which BTW, is her favorite to teach and she totally crushes it), TRX, cardio hip-hop, yoga, and everything outdoors. And in her spare time…just kidding – she has none because she's a wife and mom of 4 and her kids are busy with dance, music, soccer, art, etc..
Being an Educational Psychologist, you can always count on Ang to be compassionate, understanding, and motivating. Yes, even when she's kicking your butt! And yes, that's another one of her passions. In short, she's awesome. 
Training Philosophy
Train for life with functional movement incorporating core strength, solid form, and a healthy mindset. A fit body and soul are the best things you can put on daily!
Training Style
Consistency, commitment, and drive in each and every workout, while maintaining a fun atmosphere where we do our best using multiple fitness tools in a group setting with a goal to keep them coming back for more!  
Jams
Anything with a beat

A good 90's playlist

Any playlist with a theme

Remixes

Latin