About Jess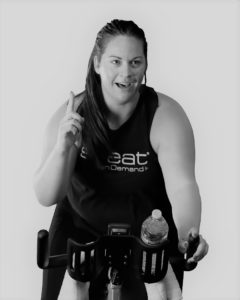 Born & raised in the Oregon rain,  to relocate to Cali sunshine and blue skies! This girl grew up in the beautiful outdoors of the PNW. Running outside in the rain, snow, gray to playing sports(soccer/basketball) in college, and pursuing a B.S. Nursing degree. Once graduated and moved to San Diego for some much needed sunshine and beginning her ER Nurse career, life happened. Working in a chaotic, stressful environment, she needed an outlet & needed to get back to a fit lifestyle. Her Friend and fellow SSoD trainer Elli, convinced her to try out Studio SWEAT, for a first time spin class two years ago. After this first class, the rest is history.
Studio SWEAT has changed my life and given me my groove back. Spinning became a 5 day a week outlet and it worked. The lifestyle to change to happy, healthy and stress free from exercise was key. After a year of being a client at Studio SWEAT, Jessica flipped the script and got her NASM CPT certification, a TRX Cert and eventually her Spinning Certification. Once she felt like Studio SWEAT was her home and she could help change lives and lifestyles for the better outside of the hospital setting she was hooked! All Jessica has ever wanted is to help people, take care of people and educate people on how to live their best lives.
Favorite Workout Jams
Pop
Classic Rock
Oldies but Goodies!
Training Philosophy
Exercise to me is meant to relieve stress, get outside of your own head and daily life for that moment, live in the now, be present and let that sh*t go and if you get fit in the process and feel like the best version of you, then success is had.
Training Style
My style has always been slap on that smile, crank up some good tunes and Jam! I write every class to have a good time. I want every class to forget about their day, and just be present in the dance it out of class, SWEAT out toxins and build some much needed muscle and tone to our bodies to stay up right and taking nourishment. I want you to feel stronger after every class, I want you to feel happy and high on endorphins after every ride. My promise is to always make you smile and laugh at my comedic hour of class.