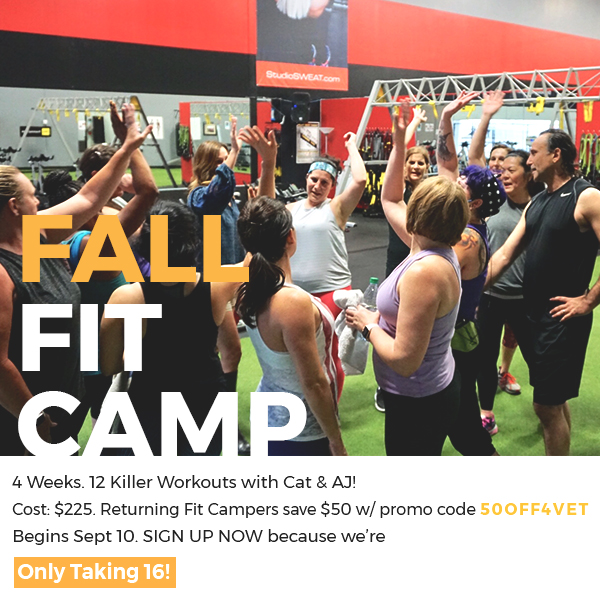 vets use promo code
50OFF4VET
on checkout
to Save $50
Fall into Fitness with trainers Cat and AJ!
Fall Fit Camp
3 CREATIVE AND FUN WORKOUTS THAT BREAK THE FITNESS MOLD EACH WEEK FOR 4 WEEKS.
A CHANCE TO CREATE A HABIT, LOSE WEIGHT, AND BUILD MUSCLE!
SATURDAY MORNING FIELD TRIPS AROUND SAN DIEGO, MAKING THE OUTDOORS YOUR OWN GYM!
$50 OFF FOR RETURNING FIT CAMPERS with promo code 50OFF4VET
AND MORE!
When will the 4 Week Camp Begin & When are the Workouts? Monday, September 10th through Saturday, October 6th. Workouts will be Mondays & Thursdays @6:45PM, plus Saturdays @7:00AM.
Who are the Trainers?  Cat & AJ!
How Much will the 4 Week Camp Cost?  Only $225!
*Fit Camp Veterans get an extra $50 off by using promo code 50OFF4VET at checkout.
Those are all the questions I predicted you'd ask, but if you have any more just let us know. 
 SWEAT BABY!
~Cat & AJ