Update: July 23, 2020
SATURDAY SPINS OUTSIDE!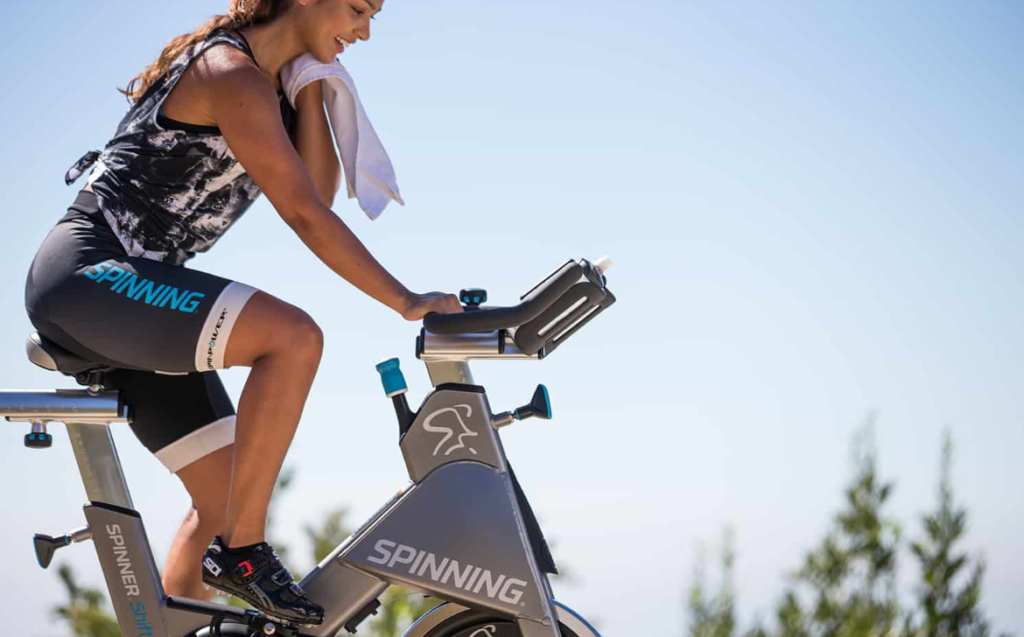 Every Saturday beginning August 1st we are taking our Spin classes outdoors! You don't even need to come in!
***Please Bring Your Own Mat****
6:00AM Spin Sculpt with Rebecca
7:45AM Spin Core with Cat
9:15AM Spin Core with Bethany
Don't forget to sign-up. Spots will sell out!
Online sign-ups are allowed 5 days before each class, but you can email reservations@studiosweat.com if you want signed up for classes further out than that.
WHEN CAN WE SPIN INSIDE AGAIN?  I hope very soon. Please contact the mayor, the governor, and your local officials to help us, so we can get better help you all again. And… If you are desperate to spin more than Saturdays we are holding private sessions. If you are interested email reservations@studiosweat.com.
OUTDOOR BOOTCAMPS (with cycling option) ARE ON!!! See more below.
We can't roll every bike outside every day, so please welcome our outdoor Bootcamp classes. Since several members cannot run, for times in the workout where we are running or doing other higher-impact exercises that you can't you will be able to ride one of our bikes. Your trainers will fill you in on how that will work.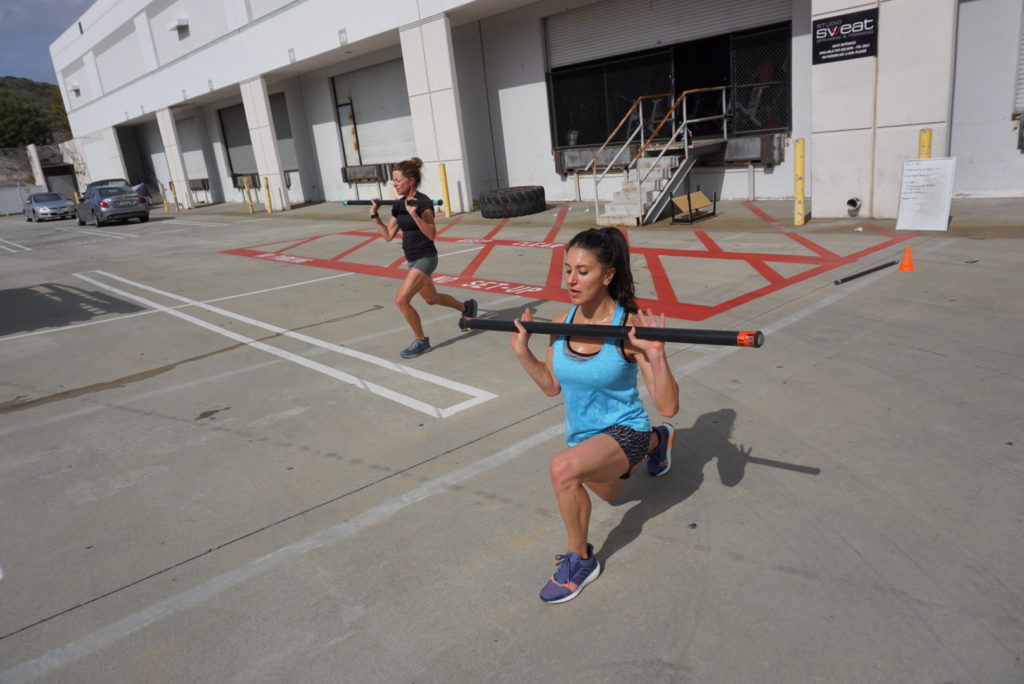 WHEN ARE BOOTCAMP WORKOUTS?  You can see the class schedule through the app or online, but in general,  options range from classes at
5:30AM
7:30AM
9:15AM
6:30PM
See the complete schedule and sign-up here.
DO I NEED TO BRING ANYTHING? 
YOU MUST BRING YOUR OWN MAT TO EVERY WORKOUT. We will supply all the equipment (same safety measures as before expected from all as far as wipe down), but we will not supply mats so we highly suggest that you bring your own. And maybe don't wear your favorite lululemon if you're worried they'll get dirty.
Hand Towel
Water
HOW DO I SIGN UP & HOW MANY CAN ATTEND?  The same way as usual (see below if you need steps).
HOW LONG IS EACH CLASS & WHERE DO WE GO:  Workouts all be 60-minutes and they will all begin at the studio and we will use the patio in front for the most part, but we might also be exploring the area with some local runs.
CHILDCARE:   Sadly, not now. I'm so sorry.
RATES:  Same as usual. See below for more info.
Thanks guys,
Cat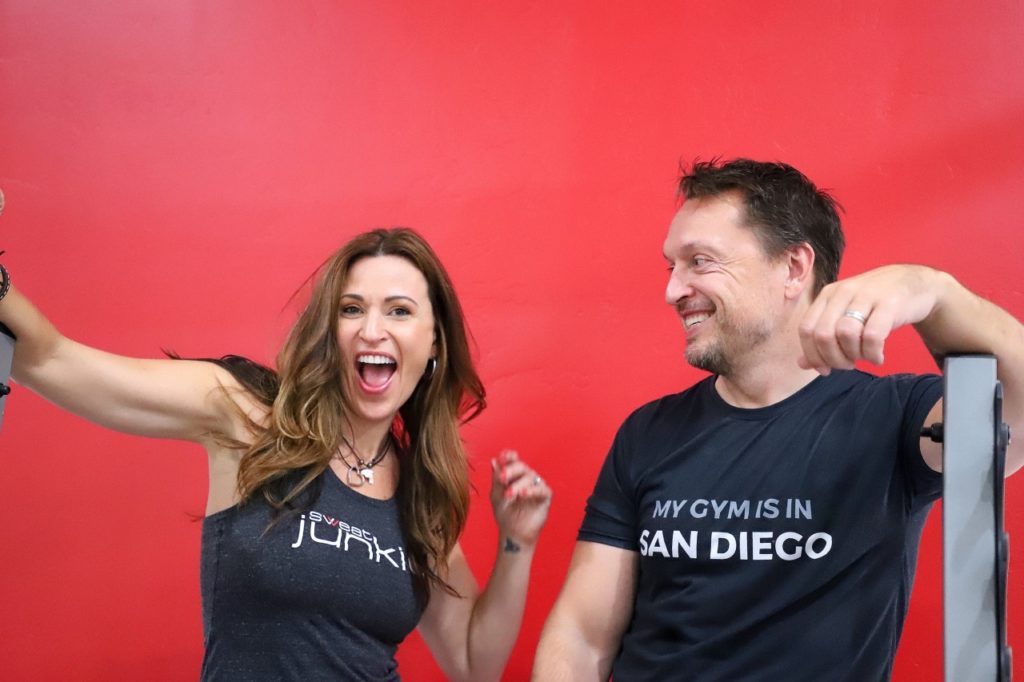 I'm leaving the below because I refuse to re-do this all when Gavin changes his mind again, which I hope will be soon.
SUMMER SCHEDULE
To see the summer schedule please download our Studio SWEAT San Diego app or visit our website reservations page.
NEW PROGRAMS & PRICING!!!
We're so excited to bring you some new options, including the Weekly Warrior Plan, perfect for those that come 2 to 3 times per week.
The late cancellation and no-show fee for Monthly Maniac Plans is now $7.50
FAQs
S.D. = Social Distancing.
How will class reservations work?  You can sign up for classes the same way you did before. Sign up through the Studio SWEAT San Diego app, our website, or by answering "yes" when we take role at the end of class. Before being able to reserve a class you will be required to sign an updated waiver. You should see this waiver pop-up when you try to reserve your first class (or first class back).
What's the new address and how do I enter?  We are now at 16473 Bernardo Center Dr, San Diego, CA 92128.  Our main entrance is on the left side of the building. Look for the Studio SWEAT arrow!
Is the class schedule the same as it was before?  Yes and no. Some of the class times are the same as they were before, but many have changed and, to begin with, we are launching with a slightly lighter schedule than before everything went down. Some instructors are leading the same classes at the same time they did before, others are not. We've also:
Added some summer special classes, like 7:15 AM on Mon & Fri
Moved instructor's around to freshen things up
Added some new class names, like the new HIIT & Spin with Miriam
Added 2 new amazing trainers to our team! Please show your support and get to know them. They are AWESOME!
        WELCOME:
Can I drop into a class?  Not until further notice. We do need you to reserve your spot, even if it's from the parking lot before you walk into the studio.
What will class sizes be?  Max of 18 for classes in the cycling room.  This number is well below the guidelines suggested by the state at this time, based on our room size. We've always given you all a lot of room, now we're just asking you to stay in your assigned area.
How do the "class workstations" work? We now have 3 rows of bikes. When facing the instructor, if you are to their right, please step off the right side of your bike. If you are on the left, please step off to the left.
Front Row Workstations – From your pedals forward and in front of your bike.
Middle Row Workstations – You get the entire length of your bike, plus as far forward as the pedals on the bike in front of you, and as far back as the back row bikes pedals.
Back Row – From your pedals back and behind your bike.
Visual Example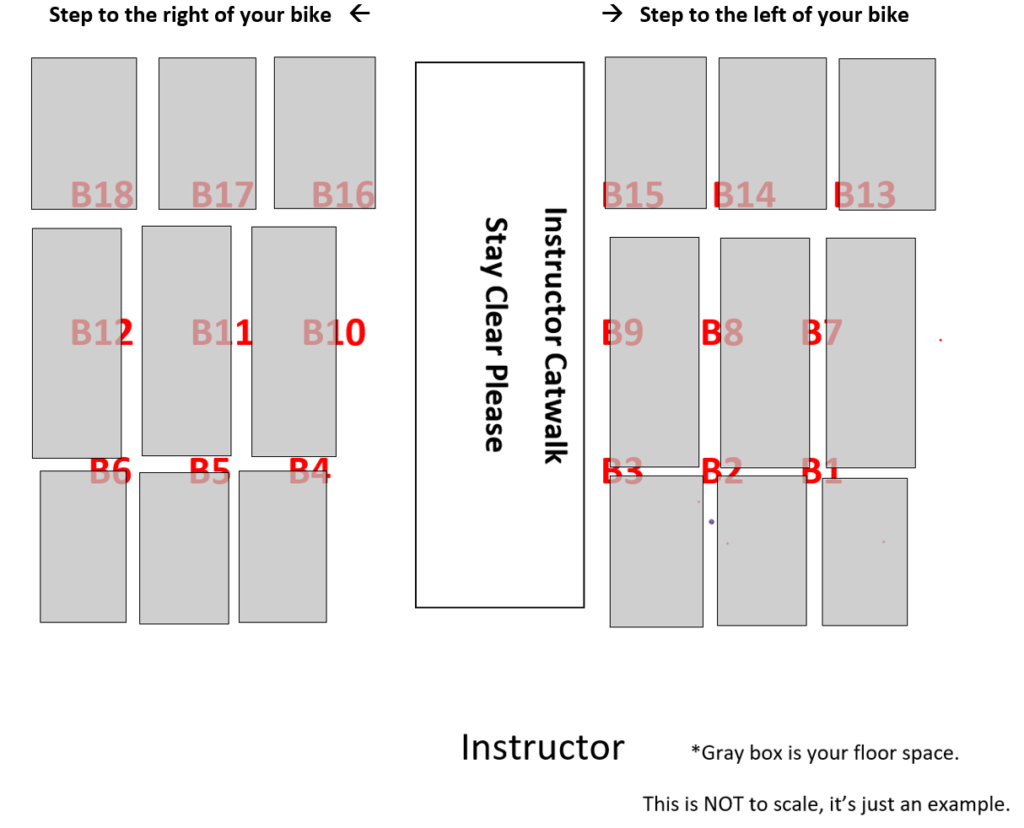 Will credits I had before the big move and pandemic work? Yep, they sure will, but if you were on an unlimited plan you will need to pick up a new plan. Your existing plan will be good through whatever date you last paid through though. For example, if your unlimited plan renewed on June 4, on July 5th you will need to pick one of the new programs as your "old" plan will be have been canceled.
Will the locker rooms be open for showers? Yes, but we ask that no more than 4 people be in the locker rooms at a time (don't worry they're huge) and that you do your best to give people their S.D. space.
Will there be child care during this phase of re-opening?  Yes!  But, it won't work as it did before. The deets are below. Mind you it may change.
We will have child care Monday – Friday for the 9:15AM classes only.
You must email @reservations@studiosweat.com to let us know when you're coming and we will save you a spot for your child(ren)
Reservations need to be made 12 or more hours prior to class start time
We are only taking up to 4 kids per session
We are asking parents to use the "elevator entrance" to bring in their kiddos, keeping them out of our main studio areas as much as possible
Temperature checks will be required for children, and parents that bring in children
Electronic waivers are required for each child that comes in
If you have an older child (10 and up) that you want to bring in that does not need childcare we must also have an electronic waiver for them. They cannot enter the premises without that. They (and you) also still need temperature checks and they can only sit in the childcare room if there are less than 4 children in there. The childcare room is the only room older kids can hang out for now.
What is the cancellation policy? 24 hours in advance, just like before. See here for more info on that.
What are some of the things Studio SWEAT is doing to keep a healthy safe S.D. friendly environment during this phase of re-opening?
Disinfecting high touch surfaces before and after every class
Spacing classes out to 30 or more minutes between each
Increasing janitorial and cleaning protocols
Performing required staff training on Safety Protocols
Created Personal Workout Stations to allow for 6 feet social distancing
Requiring all clients to sign special agreements to help keep the environment safe and their peers comfortable
Providing cleaning wipes and disinfectant spray for clients to use on equipment before and after use.
Providing hand sanitizer in many places
Not using shared equipment for classes, like stations
Set room maximum occupancies
Encouraging customers to bring their own weights/mats/bands (which they must sanitize upon arrival)
Creating a no drop-in policy, all students must reserve their spot before entering the studio
Encouraging customers to wear masks when not working out
Opening up our many many doors to provide lots of fresh air
And more!
What are you, as a customer coming in, expected to do while we are in this phase of re-opening? If you don't comply, not only are you putting yourself and others at risk, but you're also putting us at risk of getting shut down. We do have some high-risk clients that we REALLY want to keep healthy, so please do your part. Here's what we need you to agree to.
Required Pre-Cautionary Policies to Enter Studio SWEAT Until Further Notice To Prevent the Spread of Viruses Like CoVid19
Use hand sanitizer provided when entering and exiting the studio
Not make any physical contact with other members
Abide by posted room maximums
Arrive 10-15 minutes (not more) before your class start time in order to wipe down the equipment you will use for your workout
Immediately upon arriving wipe any equipment you will use for your workout with the disinfectant we provide
Leave within 15 minutes of your class end time
Post-workout immediately disinfect any equipment that you used with the disinfectant we provide
Sign-up for classes 30 or more minutes before class start times (no dropping in)
Not come in if you or anyone in your household has or has recently shown any cold or flu-like symptoms, including but not limited to a fever
If you bring in your own equipment you must disinfect it with tools we provide upon arrival
Clients are encouraged to wear facial masks over their mouths and noses when not working out
It is still BYOHT (bring your own hand towel), but do not bring in pre-used towels. Fresh clean, un-unused towels only, please.
Lobby/Personal Training Zone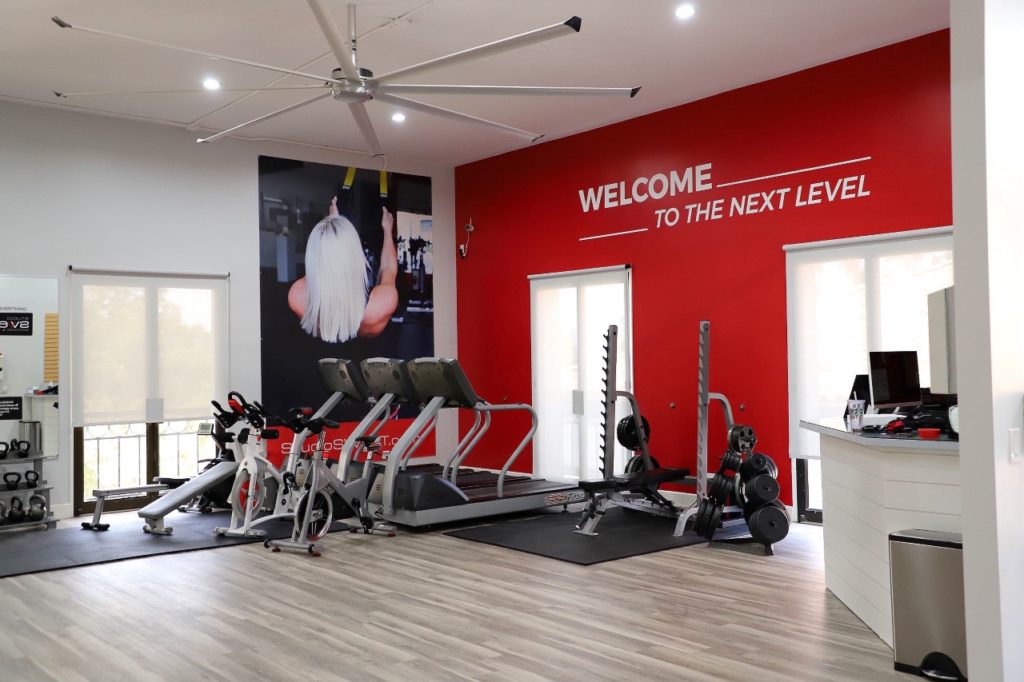 Cycling Room